Story
Afro Celt Sound System returned in 2010, after a five-year-break, with Capture. A career-spanning double CD, which cherry-picked from the collective's five acclaimed studio albums, the 25 tracks are divided into songs (Verse) and instrumentals (Chorus). All the tracks are beautifully re-mastered to lend the sound a new warmth and allow the dynamics to emerge as originally intended.
The Afro Celts pushed world music to the extremes, but they also challenged their own concepts, bringing in distinctive contemporary vocalists to spin their music in new directions. Sinead O'Connor appears here on the passionate lament, "Release" and Peter Gabriel on the buoyant "When You're Falling." When Robert Plant stormed the ramparts of "Life Begin Again," they echoed Led Zeppelin's "Battle of Evermore," only with a pounding African groove.
If movies start rolling in your head as you listen to Afro Celt Sound System, you're not the only one. Their combination of epic instrumentals and poignant, sometimes heart-breaking songs put them on the radar of film directors and music supervisors from Hollywood to Bollywood. Several tracks on Capture have been to the movies. "Chosen" was part of their score for 'Hotel Rwanda.' Martin Scorsese picked "Dark Moon" for 'Gangs of New York' while Pedro Almodovar deployed "Whirly 2" in 'Live Flesh.' Stigmata, Duma, Tristan & Isolde the list goes on. Film directors see what listeners feel in Afro Celt Sound System, music of panoramic vistas and deep emotions.
Capture celebrates 15 years of exhilarating music from Afro Celt Sound System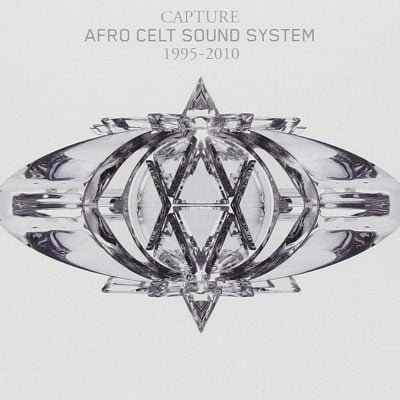 Capture
Reviews
This collective shows how fusion should be done.
On paper, the combination of Irish bodhrans and uilleann pipes with West African djembes and koras and studio electronics may sound like a gimmick, but the band has consistently found an inner logic that has allowed the to combine these diverse musical threads with stunning results over six albums. …pure tones of regular singer Iarla O'Lionaird in a consistently rewarding set that ventures from steaming rhythmic thrills to lyrical repose.
Limelight (UK)
…beautifully packaged and shrewdly programmed collection
Watching the Afro Celt Sound System in action again after a prolonged break, at the Hebridean Celtic Festival in Lewis this summer, i was struck how fresh, current and wholesome they remained. Iarla O'Lionaird's voice still remains mysteriously evocative, surreptitiously soaring from the shadows through exhilarating bursts of Johnny Kalsi's various percussion exhibitions or James McNally's flute or Mike McGoldrick, Ronan Browne and Emer Mayock's uillean pipes or Moussa Sissokho's hypnotic talking drum or the lovely kora outbreaks from Kauwding Cissokho and N'faly Kouyate….James McNally and Martin Russell have compiled a beautifully packaged and shrewdly programmed collection that proudly showcases a keynote band for the modern era. Let's hope it fires youthful imaginations sufficiently to explore the further plentiful multi-cultural possibilities still lurking out there.
fRoots Magazine (UK)
This career-spanning retrospective sounds glorious.
Listening to their latest release, Capture was a wonderful eclectic walk down memory lane, and a reminder of how exciting music can be when it truly bends boundaries. Some of the epic tracks on this 'best of' are so modern they're almost futuristic. …the rhythms are infectious, the words have real heart and that mix of Irish and West African sweeps you away almost like the best spiritual music can. This career-spanning retrospective sounds glorious.
The Irish World Magazine (Ireland)
Pure beauty.
…what a wonderful example of multicultural world music harmony! Not only are their hypnotic, esoteric rhythms effortlessly cool and tasteful to a fault, easy on the ear, otherworldly, down-tempo moods slippery with enigmatic currents, but also there's not too much difficult ethnic stuff to get your head around, with reassuring familiarity of right-on names such as Peter Gabriel, Robert Plant and a perfectly cast Sinead O'Connor….every BNP member should be force fed on this until they bleed tears of remorse in the face of pure beauty.
Rock N Reel (UK)
…impeccable
Emerging from cross-cultural collaborations at WOMAD involving Irish, Senegalese, Indian and other 'world' musicians, the production of this Celtic-rooted sound is impeccable. With Sinead O'Connor, Peter Gabriel, Robert Plant and others on board, and uilean pipes, whistles, tablas, kora, keyboards and more, the feel is of a spacious, filmic journey full of intimate detail. For me, while this is 90s music, its spirit harks back to 60s ideals and evokes 70s psychedelia for the global dance generation.
The List (UK)
Afro Celts Sound System – WOMAD Charlton Park 2010
Every song brought an upsurge of energy in an almost orchestral collusion…this music is not transcendental but Afro Celts operates as an organism, truly genetically mutant and their magic is euphoric and equally enduring.
Theartsdesk.com (UK)
It can almost feel all-pervasive – the soundtrack of the modern world.
Capture compiles the best tracks from Afro Celt Sound System's first five albums, released between 1995 and 2005. One disc, subtitled Verse, contains tracks featuring vocals; the second, Chorus, focuses on instrumentals. Together, they encapsulate the elements which have made the band popular: an irresistible blend of rhythms and lilting spirituality aimed equally at the head, heart and feet. The band has attracted one-off guest vocalists like Sinead O'Connor, Peter Gabriel and Robert Plant. Even with such distinctive vocal stylists present, the sound of the Afro Celt Sound System shines through, one that has been highly influential and much-imitated. At times, it can almost feel all-pervasive – the soundtrack of the modern world. This collection perfectly captures and conveys that feeling.
BBC Online Music (UK)
…deep soul and wicked intelligence
…it was not just nostalgia for the 1990's that caused a packed marquee to unite in dancing deliriously at July's Womad Festival reunion. At 25 tracks, this compilation may be excessive, but it's great dance music crafted with deep soul and wicked intelligence, and has barely dated.
The Times (UK)
Afro Celt Sound System are a joy and to witness their performance is to be part of something emotional, joyous and life affirming
The set of the day, and probably the whole weekend belonged to Afro Celt Sound System…in a weekend crammed with top world music and acts this was the one that, for us at least, captured the spirit and the essence of what WOMAD is all about. They've been away for far too long and haven't played WOMAD for the past 10 years so it was a welcome return for a band who are able to build their set from the gentle opening bars to a soaring, searing crescendo. Euphoric doesn't quite captured the vibe that flowed easily around the Siam Stage as track after track was laid bare for all to enjoy. Afro Celt Sound System are a joy and to witness their performance is to be part of something emotional, joyous and life affirming leaving you breathless, there can be no doubt that the music these guys produce touches your very heart and soul.
safeconcerts.com (Live review from Womad Festival) (UK)
Afro Celts Sound System – WOMAD Charlton Park 2010
…earlier Afro Celt Sound System tore up the Siam Tent with their cross-cultural mash up of world music – the perfect band to sum up what Womad is about. At one point a kora player, dhol drummer, talking drum maestro and bodhran player jammed over squelchy acid keyboards and a breakbeat. Awesome stuff – and amazing to witness live. On CD it's hard to appreciate that everything is live, not Mac trickery.
The Independent (UK)