Depuis quelques jours, N'Faly Kouyaté se trouve sur le sol d'Uncle Sam. Arrivé le 17 Novembre à New York, il s'embarque maintenant, ense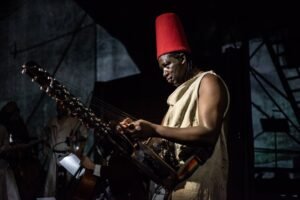 mble avec sa kora, direction Miami. A partir de demain, il y aura une période de répétitions et la mise en place du spectacle "The Head and The Load" suivi par des représentations. Le lieu emblématique des spectacles est le "ADRIENNE ARSHT CENTER FOR THE PERFORMING ARTS".
The Head & the Load parle de l'Afrique et des Africains dans la Première Guerre mondiale. C'est-à-dire de toutes les contradictions et paradoxes du colonialisme qui ont été chauffés et comprimés par les circonstances de la guerre. Il s'agit d'incompréhension historique (et d'inaudibilité et invisibilité). La logique coloniale vis-à-vis des participants noirs pourrait se résumer : "De peur que leurs actions ne méritent d'être reconnues, leurs actes ne doivent pas être enregistrés".
The Head & The Load vise à reconnaître et à enregistrer. —William Kentridge
Plus d'informations ici https://www.theheadandtheload.com/.
---